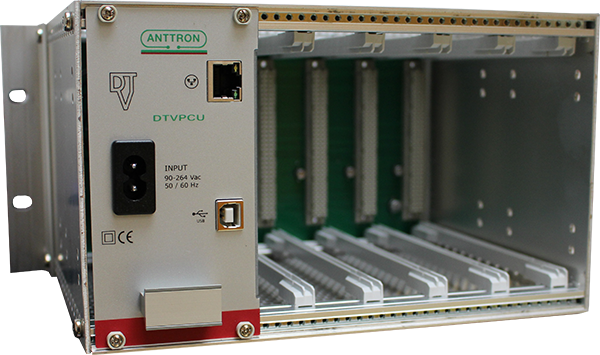 Checkout all DTV Products
CMi- and DTVRack
DTVRack is a unique concept when we talk about headends. Based on a 19 inch rack with a backplane where transport streams can be connected with eachother, it forms the basis for a flexible headend.
Besides the powersupply in the rack which also acts as a communication hub to the outside world (PC) a collection of different modules makes the headend complete. 
The unendless possible combinations of these modules give you for each situation the most ideal solution.
Input Modules
DTVRR4 & DTVRR6 are two powerful modules that have both 2 inputs. They can be used to multiplex these streams together to one unique transport stream. The DTVRR4 supports DVB-S/S2, the DTVRR6 also supports DVB-C/T/T2.
DTVAV2 modules can be used to encode two CVBS (Audio/Video) inputs into MPEG2. They are multiplexed into one unique transport stream.
DTVHD4 modules can be used to encode four HD HDMI sources into H264/AAC-MPEG1-L2 in Full HD.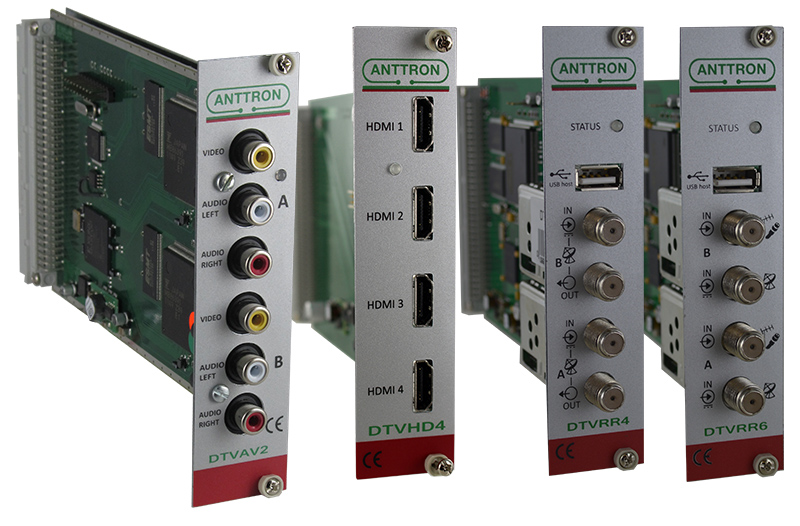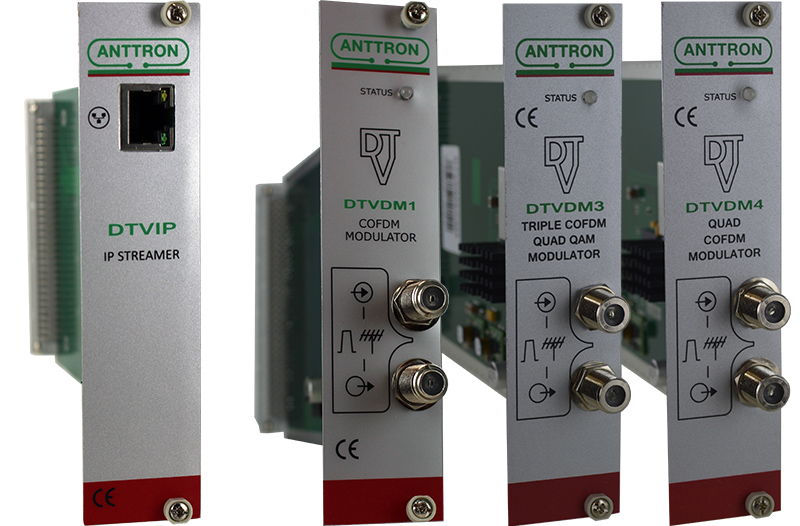 Output Modules
DTVDM1, DTVDM3 & DTVDM4 are three DVB modulators. The DTVDM1 is a single DVB-T  modulator, the DTVDM3 a triple DVB-T/quad DVB-C, the DTVDM4 is a quad modulator for both DVB-T and DVB-C .
With the DTVIP you can transform your CMiRack or DTVRack into an IP-streamer. The outgoing stream can easily be put on your network using a simple RJ45-connector.
IRM: Your own transport stream
All our input modules do have a third input, which collects the transport stream from the previous modules and multiplexes this stream with the one of the module itself.
We call this Anttron Intelligent ReMuxing (IRM) and it enables you to compose your own transport tream.
Imagine how interesting it can be to create your own content and distribute it over your DVB-T or DVB-C network. With our products digital signage in your existing configuration can be done in 3 clicks. With one of our input modules you can integrate content over USB (TS H264 files), Audio/Video (CVBS), or HDMI.